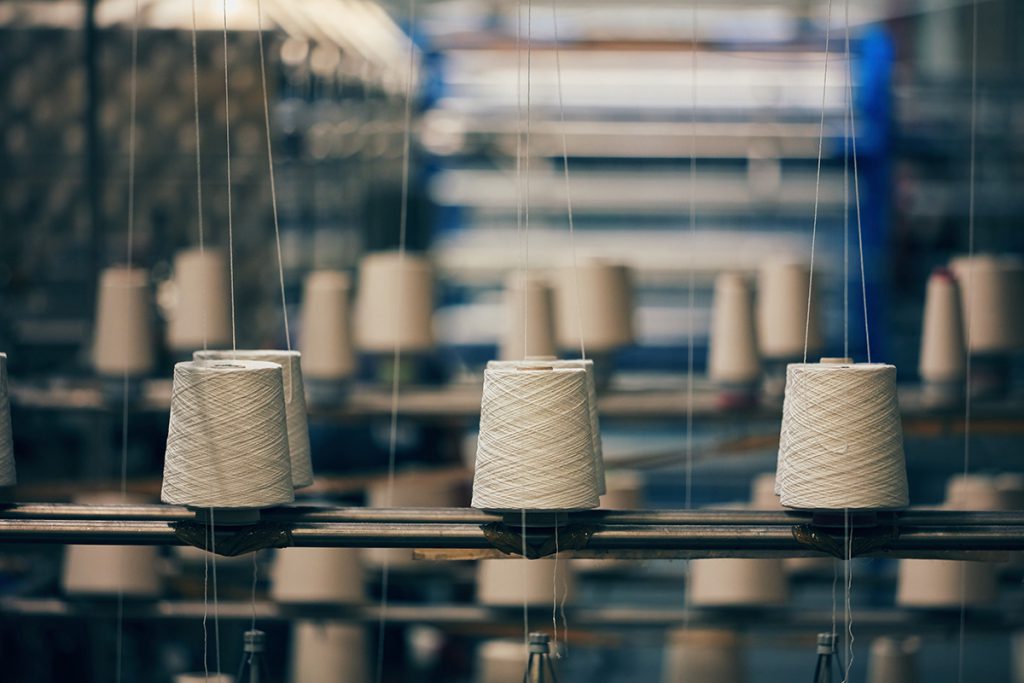 D'Finest, an over 80-year textile supplier, understands every aspect of manufacturing woven fabrics. 
What is weaving?
Weaving, or the process of connecting individual threads at right angles to one another, has existed for millennia and remains popular today. Since the Paleolithic era, approximately 27,000 years ago, weaving techniques ranging from basket weaving to loom weaving have been known.
In woven fabrics, a pattern known as the "warp" and the "weft" connects perpendicular threads or yarns. Threads or yarns are tied using warp and weft patterns. As a result, the fabric is formed. A loom is used to weave fabrics. The loom connects two yarns by weaving one set of yarns between the other yarns. The two yarn sets are arranged perpendicular to one another in this pattern. The warp is a continuous thread running the length of the fabric.
In general, woven fabrics outperform nonwoven fabrics in terms of strength and structural integrity. Many of the items we wear against our skin are made of natural fibers, such as cotton shirts, silk dresses, and wool sweaters. Woven cloth is stretchy but not excessively so, which allows it to retain its shape even when stretched. Additionally, woven fabrics are well-suited for machine washing and long-term use in clothing due to their durability.
Numerous weave styles are used to create a variety of fabric types, each with its own unique set of characteristics (twill, satin, or plain weave). Each style has distinct advantages and applications. While weaving originated with a practical purpose, the aesthetics of woven fabrics have always been an integral part of the product. For example, massive story-telling tapestries enriched the aesthetic experience of those who lived in castles during the Medieval Ages while also keeping the castle warm.
Weaving nowadays
Today's textile industry has made significant advancements in order to produce high-quality fabrics such as woven or nonwoven fabrics. Weaved fabric production begins with yarn preparation techniques such as winding, warping, and sizing. Throughout the weaving process, both warp and weft yarns are subjected to a variety of complex stresses. After the yarn has been properly prepared, it is woven on a machine called a loom. Weaving machines are frequently named after the systems used to insert the weft. Shuttle and shuttleless systems are the two broad categories of weaving machines.
Following that, weft insertion mechanisms such as rapier, projectile, air-jet, and water jet are used to manufacture various types of fabrics, depending on the raw material, fabric structure, and overall economics of the process. Additionally, the rapid style change system, off-loom take-up system, inverter drives, filling feeders, electronic let-off and take-up, automatic filling repair, and new monitoring systems have significantly increased weaving productivity and flexibility.

Enquiries or Request for Catalog
How to choose a woven fabric manufacturer
If your design is going into total production, you should obtain fabric supplies from a reputable wholesaler who can ensure the availability of the fabric you require. Suppliers are classified based on the products they stock and the manner in which they operate. For example, mills offer custom-made fabrics with a minimum order quantity of 1,000 yards or more. Wholesalers, also known as converters, are secondary sources. They process raw mill products and frequently offer printed fabrics, special effects, and a range of colors. Jobbers are a different breed of individuals. They purchase a limited quantity of surplus fabric from converters and mills and resell it at a discount. When shopping in this category, exercise caution because repeat fabrics are not always available. Once it's gone, it's gone forever.
The Internet is an excellent place to begin your search for reputable suppliers. Online suppliers' websites typically include all pertinent information, making it simple to locate what you're looking for. Another excellent venue for meeting potential suppliers and inspecting their samples is trade shows.
So, if you are looking for a high-quality woven fabric manufacturer, we would like to recommend D'Finest Fabric to anyone interested in woven fabrics or looking for a fabric supplier. For over 80 years, the company has been a shirting fabric supplier, uniform fabric supplier, retail and wholesale fabric store with a single motto: quality. D'Finest Fabric has also adapted and evolved in response to new shirting fabric production technologies and advancements, such as yarn sourcing and higher weaving constructions that improve hand feel and wear while avoiding pilling, shrinkage, and fading. Furthermore, the company includes a wide range of fabric finishings and chemical treatments that accredited mills around the world use to meet a variety of standards, including OEKO-TEX standard 100, BCI, Bureau Veritas standard SA8000, and others. There are numerous fabrics available, including Oxford fabric, TC fabric, and tailor fabric. With a large inventory of raw fabric in a variety of weights, compositions, and weave types, D'Finest Fabric can also offer every handloom example in every fabric construction. In order to ensure that you receive the highest quality and the exact fabric that you require.
D'Finest Fabric also carries a large inventory of raw fabric in a variety of weights, compositions, and weave types. For instance, this store employs refined compact cotton that meets OEKO-Tex and BCI standards and a quality-control yarn dyeing process. Produce precisely with the aid of a Toyota air-jet loom machine. Mercerize the cotton to increase dye absorption, tear strength, and shrinkage resistance. Before cutting and producing, safronize the cotton to stretch and fix the woven cloth in both length and width. Then, using an OEKO-Tex standard liquid ammonia elastomer, finish the process to minimize shrinkage that would otherwise occur after washing. Every process will ensure that you receive the highest quality fabrics from D'Finest Fabric.
Fabric shirting fabric Fabric supplier Link to : https://shirtingfabric.com/
For more information, visit : https://shirtingfabric.com/
Email : dfinestfabric@gmail.com
Line : https://line.me/R/ti/p/~dfinest
Whatsapp : https://api.whatsapp.com/send/?phone=66866338118&text&app_absent=0
Office : +662-391-5737, +662-391-5738, +662-391-5739
Mobile : +6686-633-8118, +6685-612-6555